First produced by the BBC in 1963, Doctor Who remains one of the most popular science fiction series on television. During his time as showrunner (2005-2010), Russell T. Davies analysed several anxieties and political issues of the contemporary world. Silvia will analyse how this is achieved by connecting the 2007 Master Trilogy to certain fears and political and social issues of the post-9/11 period. In particular she will focus on the concept of Utopia, and the different strategies which attempt to achieve this ideal.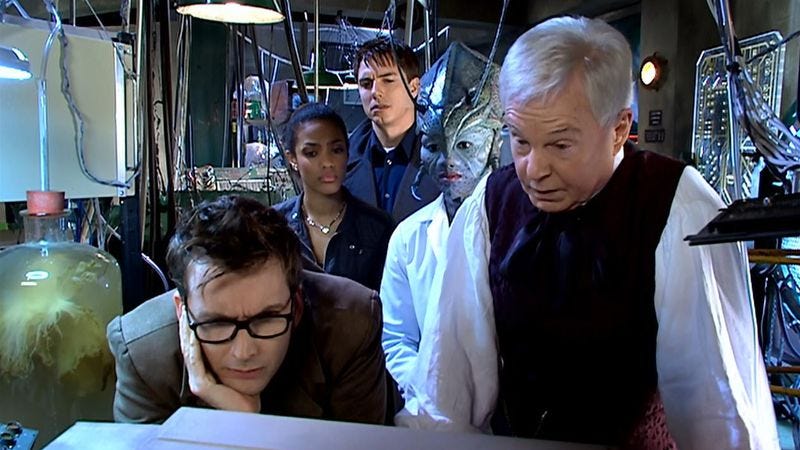 Ciara will then discuss the changing nature of the Cybermen and what these changes tell us about contemporary British culture and its concerns. Beginning with the earliest conception this discussion will focus on the fears surrounding cybernetic medical interventions, Cold War anxieties, and British Imperialism. Moving to the Cybermen of the present day, this analysis will then take a look at how their characterisation is affected by issues such as transhumanism, globalisation, and the rapid advancement of technology.
Further Reading
Charles, Alec. "War without End?: Utopia, the Family, and the Post-9/11 World in Russell T. Davies's 'Doctor Who.'" Science Fiction Studies, vol. 35, no. 3, 2008, pp. 450–465. JSTOR, www.jstor.org/stable/25475178.
Geraghty, Lincoln. "From Balaclavas to Jumpsuits: The Multiple Histories and Identities of 'Doctor Who's' Cybermen." Atlantis, vol. 30, no. 1, 2008, pp. 85–100. JSTOR, www.jstor.org/stable/41055308.
Green, Bonnie, and Chris Willmott. "The Cybermen as Human.2". New Dimensions of Doctor Who: Adventures in Space, Time and Television, edited by Matt Hills. New York: I. B. Tauris, 2013, pp. 54-70.
Nicol, Danny. "From Davros to Davros: Corporate Power in Britain and Doctor Who". Doctor Who: A British Alien? New York: Palgrave Macmillan, 2018, pp. 209-258.
Oates, Chris. "Doctor Who and the New British Empire", L.A. Review of Books. https://lareviewofbooks.org/article/doctor-who-and-the-new-british-empire/