This podcast will explore the ways in which national anxieties are manifest in science fiction. We will examine texts from Japan, Russia and Britain. The twentieth century was a tumultuous time for these countries, and greatly impacted the relationships between them. They endured two world wars, the Cold War, and the Korean and Vietnam wars. As Susan Sontag notes, "historical reality… greatly enlarged the imagination of disaster". Science fiction's tendency towards disaster and dystopia made it the perfect genre in which to explore the particular anxieties of the twentieth century, from the atom bomb to the growth of communism. Our discussion reveals the specific anxieties of the period as they vary between nations with different experiences and priorities. Science-fiction's preoccupation with destruction and disaster allows these anxieties to be played out and explored cathartically.
Fiona will discuss Japanese sci-fi, focusing on Godzilla and the atomic bomb. She will analyse the film's titular monster and compare the film's reception in America to that in Japan. Emily will examine the short-lived trend of Soviet science-fiction, and how, despite being opposed to the later realist representation, it managed to define Russian anxieties and opinions of the time.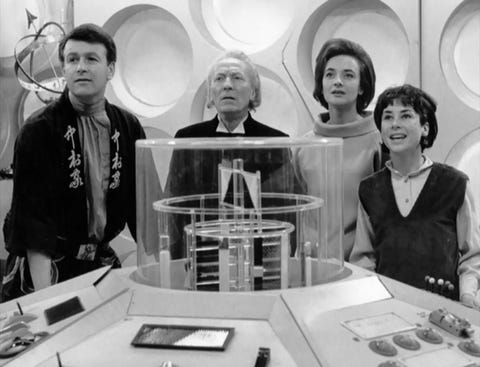 Finally, Cliodhna will explore the impact of the collapse of colonialism on British science fiction. Where their frustration with their lack of power and longing for days gone by is apparent in their use of time travel in her text- Doctor Who.
Suggested Reading
Sontag, Susan. "The Imagination of Disaster." Film Theory and Criticism, edited by Gerald Mast and
Marshall Cohen, Oxford University Press,1985, pp. 451-65.
Japanese Sci-Fi
* Anisfield, Nancy. "Godzilla/Gojiro: Evolution of the Nuclear Metaphor," Journal of Popular Culture, vol. 29, no.3, 1995, pp. 53-62.
* Cohen, Jeffrey Jerome. "Monster Culture (Seven Theses)." Monster Theory: Reading Culture, edited by Jeffrey Jerome Cohen, Minneapolis: University of Minnesota Press, 1996, pp. 3-25.
* Gojira. Directed by Ishirō Honda, screenplay by Takeo Murata and Ishirō Honda, Toho, 1954.
* Hersey, John. Hiroshima. Vintage Books, 1989.
* Napier, Susan J. "Panic Sites: The Japanese Imagination of Disaster from Godzilla to Akira," The Journal of Japanese Studies, vol. 19, no. 2, 1993, pp. 327-351.
* Noriega, Chon. "Godzilla and the Japanese nightmare: when Them! Is U.S." Cinema Journal, vol. XXVII, no. 1, 1987, pp. 63-77.
Russian Sci-Fi
* Banerjee, Anindita. Russian Science Fiction Literature and Cinema, Boston: Academic Studies Press. 2018, pp 178-200
* Bulgakov, Mikhail. The Heart of Dog. Moscow; Raduga Publishers. 1990. Accessed: http://www.arvindguptatoys.com/arvindgupta/29r.pdf
* Cornwell, Neil; Nicole Christian. Reference Guide to Russian Literature. Taylor & Francis. 1998
* Haber, Edythe C. Mikhail Bulgakov: The Early Years. Harvard University Press. 1998.
* Paperno, Irina and Delaney Grossman, Joan. Creating Life: The Aesthetic Utopia of Russian Modernism. Stanford. 1994
British Sci-Fi
* "BBC – Archive – The Genesis Of Doctor Who – Creating A Science Fiction Hero". Bbc.Co.Uk, 2019, http://www.bbc.co.uk/archive/doctorwho/. Accessed 21 Mar 2019.
* Csicsery-Ronay, Jr., Istvan. "Science Fiction and Empire".Science Fiction Studies
* Vol. 30, No. 2, Social Science Fiction, 2003, pp. 231-245
* Charles, Alex "War without End?: Utopia, the Family, and the Post-9/11 World in Russell T. Davies's "Doctor Who" Science Fiction Studies Vol. 35, No. 3 (Nov., 2008), pp. 450-465
* "Doctor Who". BBC, 1963.
* Pietz, William. "The "Post-Colonialism" of Cold War Discourse" Social Text, No. 19/20 (Autumn, 1988), pp. 55-75